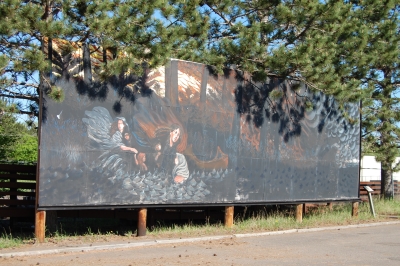 Come in and see us!
The Hinckley Fire Museum welcomes you. Please allow one to two hours to see all of our exhibits and the 20-minute film that tells the story of the fire. Please call ahead to advise us of any special needs and we will do everything we can to accommodate your visit.
We are closed for the season and will re-open on May 1, 2018.
Hours
Hours are 10:00 a.m. until 5:00 p.m. - No admission after 4:15 p.m., please.
Please plan to spend enough time inside to enjoy our short film explaining the conditions that led to the fire and to walk through our many exhibits. Because the museum closes each day at 5:00 p.m., we ask that you arrive no later than 4:15 p.m. We have a great story to tell and it takes a little time!
The museum is open from May 1 through Mid-October each year.
Open Tuesday - Sunday in May, June, September and October
Open seven days a week in July and August
Admission
Guided Tours
We offer guided tours for school groups, bus tours, government agencies, businesses and more.
Please contact us well in advance to book your tour.  Reservations fill up quickly!
Tour admission packages are available upon request.
Please note:  The museum is intended to give the feeling of history.  There were no mobile phones in 1894, so we respectfully request that you turn off all phones, pagers and other electronics before entering the museum and take any important calls outside as a courtesy to our guests.  Flash photography is permitted in the museum, however it must not cause undue distraction to other guests. Rest room facilities are available to museum guests.  Well-behaved pets are permitted.
Directions
The Hinckley Fire Museum is located along Old Highway 61 in downtown Hinckley.
From Interstate 35:
• Turn west on Minnesota Highway 48 (also called Fire Monument Road)

• Drive six blocks to the intersection with Old Highway 61 which features a prominent BP filling station on the corner and turn north (right)

• Drive across the railroad crossing and ahead three blocks.  The museum is on your left.
Lost?  Please contact us and we'll provide directions by phone.
No overnight parking is permitted.  Please observe all parking signs.
Are you a fan of birding, biking, snowmobiling, hiking, camping, antiquing?
We'll point you in the right direction to enjoy your time in Hinckley.